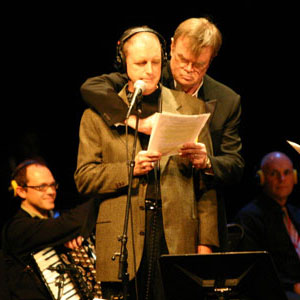 "Vocal chameleon" and Notre Dame alumnus Tim Russell ('69) is featured in the Spring 2005 issue of Notre Dame Magazine. Listen to Tim Russell's celebrity voice impression of Federal Reserve Chairman Alan Greenspan mentioned in "The Voice That's Launched 1,000 Skits."
—
The Voice That's Launched 1,000 Skits
By Ed Cohen
Commenting on the pending collision between the planet Earth and a giant comet, Federal Reserve Chairman Alan Greenspan had this to say in January:
"While it remains to be seen what the ultimate impact of the comet will be, I would recommend that people pay only the minimum on your credit card balance."
The Fed chairman wasn't talking about a real comet, of course, and it wasn't a real news program. It wasn't even Alan Greenspan.
It was Tim Russell '69, the vocal chameleon of Garrison Keillor's homespun public-radio variety show "A Prairie Home Companion."
Russell, 57, has been the principal male voice in the show's three-person "radio acting company" for 10 years. The weekly program, which now boasts an audience of more than 4 million, has been on the air since 1974, except for a two-year hiatus in the late '80s when Keillor moved abroad. It program began in Saint Paul, was moved to New York for two years in the early 1990s, then returned to Minnesota.
Russell is familiar to fans of the show as the soft-spoken Jim, whose wife perpetually reminds him of ketchup's "natural mellowing agents" in commercials for the imaginary Catchup Advisory Board. "Jim slipped on the ice last week and hit the side of his head, and he has been a lot more agreeable ever since," one segment began. Other recurring characters include folksy Fred Farrell, marketer of unlikely animal calls ("python, pickerel, porcupine, Pekinese . . ."); Dusty, the gravel-voiced sidekick to Keillor's poetic cowboy Lefty on "Lives of the Cowboys"; and Henrí, the haughty French maitre d' of the Café Boeuf, whose lines Russell emotes entirely in French-accented gibberish.
But those are only the fictional characters. His other forte is celebrity impressions, and he does scores of them: Tom Brokaw, Mister Rogers, Jimmy Stewart, Julia Child, Arnold Schwarzenegger, Jesse Ventura, Lou Holtz (who coached at the University of Minnesota before Notre Dame), Al Gore, George Burns, Ross Perot.
His impersonation of Greenspan came during a surrealistic sketch the week of President Bush's second inaugural. A group of elderly Democrats in a Maryland nursing home is roused to rebellion by the sound of Bush taking the oath of office. (Keillor, who writes the entire show, is a staunch liberal.) Russell had to imitate not only Bush but at one point switch from Franklin Roosevelt to John F. Kennedy to Kirk Douglas to Henry Fonda to Bob Dylan. In a span of 26 seconds.
"It's like having this big organ in front of you," says Keillor of writing to Russell's expandable catalogue of voices.
Russell says he grew up watching a lot of television, including Johnny Carson and cartoons, and reading Mad Magazine. He saw impressionists on the Ed Sullivan Show and soon was doing his own. If someone was visiting, he says, his parents would sometimes say, "'Be funny, Tim,'" and trot him out to do some impressions.
It doesn't take him long to learn a new one, he says. Take Greenspan, not a celebrity often imitated. The first time the Fed chairman's name appeared in a script, Russell surfed over to the National Public Radio site and searched the audio archives for recordings of him. After listening for a while, he says, he was able to "see what's going on" with the voice and get it inside his head.
Versatility and the ability to change directions fast are elements of Russell's daily work life. A Prairie Home Companion is actually only his weekend gig. Monday through Friday from 5 to 9 a.m. he does movie reviews, reports entertainment news and plays clips from interviews he's recorded with stars on the morning show at WCCO-AM, the dominant news-talk station of the Twin Cities. At various times he and host Dave Lee will also ad-lib comedy routines, as in January when Russell phoned in as Dubya to chat about his favorite dance steps at the inaugural balls the night before.
Steve Murphy, the station's managing editor who has known Russell close to 20 years, says, "It's not just that he's on the mark with the impersonations, but the content is funny, too."
On weekday afternoons Russell levers his 6-foot-3-inch frame into his Pontiac Vibe compact station wagon and drives over to his agent's office to audition for other voice work, mainly commercials. An ad he did for Accountemps has been running in various markets for 15 years, he says. In it he plays an employee calling in feigning an illness, only to be told he can stay home as long as he likes, the temp is working out so well. So has the ad, for Russell. Every quarter it runs, he says, he receives a residuals check for $360.
Russell got into radio after abandoning law school after a semester and enrolling in broadcasting school in Minneapolis. His first job was a morning show in Dubuque, Iowa. When WCCO, the Minneapolis station, launched an FM station in 1973, he was hired as the station's first morning host. Ten years later he moved over to the AM station.
His career at WCCO came to an unexpected halt in 1993 when the station was sold and the new management switched to a talk-radio format. They offered him the graveyard shift. He quit.
"I was just shocked. I was just doing my job, and the ratings were great."
He says he was touched by the outpouring of support he received from listeners after the story was reported in the Minneapolis newspaper. He always knew he'd return to the station after the next management change, he says, and in 1997 that's exactly what happened. In the meantime the non-compete clause in his contract prevented him from moving immediately to another station in the market, so he concentrated for a time on voice-over work.
Then came a call from the producer of "Prairie Home Companion." Russell was booked on a couple of the program's road shows in spring 1994 and became a regular cast member that fall.
Keillor says Russell has "a kind of instinctive feel when reading a script, unlike a stage actor who would take weeks to work up to it." That's impossible if you're going to work for Keillor. According to Russell, the host doesn't start writing the script for the early evening Saturday broadcast until Thursday — doesn't start on his trademark "News from Lake Wobegon" till Saturday morning — and is making changes right up to the time they go on the air. Sometimes beyond.
Last December, while Russell was at the mike reading lines from the Catchup Advisory Board script, Keillor's arms came snaking around from behind to scratch out the last two paragraphs on the page.
"We say it's the greatest job in show business — no makeup, no lighting, just good writing and a script," Russell says of acting on the show.
You'd just better be flexible.
—
Ed Cohen is an associate editor of this magazine.
(April 2005)