February 28, 2022
GARRISON KEILLOR TAKES HIS
A PRAIRIE HOME COMPANION AMERICAN REVIVAL
TO THE RED ROCKS AMPHITHEATRE
on
MONDAY, MAY 2, 2022, 7:30 p.m.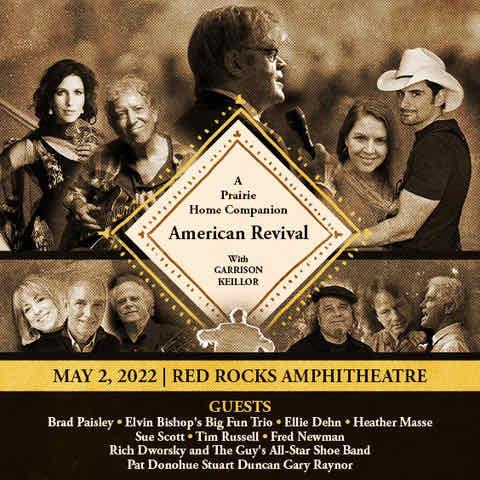 SPECIAL GUESTS INCLUDE
country superstar and Grand Ole Opry member BRAD PAISLEY
Rock & Roll and Blues Hall of Famer ELVIN BISHOP
soprano ELLIE DEHN, singer/songwriter HEATHER MASSE, and others
Tickets go on sale March 4, 10 a.m. MT
Also …
GARRISON KEILLOR TO RELEASE NEW BOOK, BOOM TOWN,
ON APRIL 11, 2022
(Minneapolis, MN) — Garrison Keillor takes his A Prairie Home Companion American Revival show to the famed Red Rocks Amphitheatre on Monday, May 2, at 7:30 p.m. He will be joined by country superstar Brad Paisley, bluesman Elvin Bishop's Big Fun Trio, soprano Ellie Dehn, vocalist Heather Masse, and more. Tickets for this special event go on sale on March 4, 2022, at 10 a.m. MT.
This must-see show will be jam-packed with music, humor, audience sing-alongs, and of course the News from Lake Wobegon, "the little town that time forgot and the decades could not improve." And the Red Rocks setting is nothing short of spectacular — "the only naturally occurring, acoustically perfect amphitheatre in the world."
Garrison says: "We've heard enough about despair, let's take a night in the Colorado mountains to have a big time with Brad Paisley, Elvin Bishop, Ellie Dehn, the Guy's All-Star Shoe Band, our Actors, Heather Masse, and the host Himself who is very happy to be turning 80. So let's get our chins up and sing about the beauty of the land and the rainbow our people were looking for, the rivers they crossed, their high hopes for their kids."
Actors Sue Scott, Tim Russell, and Fred Newman will be on hand, along with Richard Dworsky and the Guy's All-Star Shoe Band (Pat Donohue, Stuart Duncan, Gary Raynor).
Ticket price: $59 – $89.50
Red Rocks Amphitheater tickets: Click here