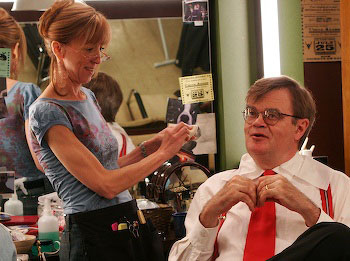 "Prairie Home Companion" regular cast member and voice-over talent, Sue Scott is delighted to play "Donna, the makeup lady" in Robert Altman's "Prairie Home Companion" movie that begins filming in July in St. Paul, Minnesota. As Scott told Minneapolis Star Tribune writer, Deborah Caulfield Rybak, "'I don't get to kiss anybody, but I'll get to touch all their faces,' she joked. 'I'll be putting makeup on all the guys.'" Scott is also looking forward to working with Robert Altman's trademark improvisational filming technique. Read more from Sue Scott (and Tim Russell) regarding Altman's film in "Hollywood converges on St. Paul's Fitzgerald Theater."
—
Hollywood converges on St. Paul's Fitzgerald Theater
By Deborah Caulfield Rybak
Minneapolis Star Tribune
July 5 2005
ST. PAUL — It was high noon on a hot, sticky Thursday. Outside St. Paul's Fitzgerald Theater, Exchange Street was quiet and deserted.
Inside, it was a different story. The Fitz, normally deserted on a weekday, was crawling with workers. Carpenters hammered in the basement, painters decked the lobby with dropcloths, and grips wrangled racks of high-powered lights onstage. Wires dangled from the balcony. Men huddled, hands clenched around Starbucks cups, conversing intently in a cinematic language unintelligible to the average person.
Their no-nonsense industriousness was entirely justified — time was of the essence. In a matter of days, it would be lights, camera, action for one of the most prestigious projects ever to be filmed in the Twin Cities. On Wednesday, cameras started rolling on "Prairie Home Companion," a "comic fable" based on Garrison Keillor's public-radio show.
The high-profile nature of the cast — including Meryl Streep, Kevin Kline, Lily Tomlin, Woody Harrelson and Lindsay Lohan — is matched by its behind-the-camera talent: storied director Robert Altman, who has made "M*A*S*H," "Nashville" and "Gosford Park," among dozens of other films.
Keillor wrote the screenplay and will play himself in the film, which is a backstage story about the last days of a radio variety show suddenly canceled after 30 years on the air. Plenty of other local talent will appear on screen, as well. "PHC" regulars Tim Russell and Sue Scott have small parts. Sound-effects wizard Tom Keith and the show's band will appear as themselves. Frequent musical guests Robin and Linda Williams and Jearlyn Steele will perform.
In a classic case of art imitating, well, art, "PHC" the movie is coming together a lot like its radio inspiration — at the last minute. Financing took longer than expected and pushed back the start date several times, from last fall, to February, to June. Planning for the production has been crunched into a claustrophobic window practically on top of the movie's start date.
Stars' schedules were cramped as well, and some previously announced performers, such as Lyle Lovett, Tom Waits and Willie Nelson, had to drop out. Others, including Streep, will only be in town for a short time. As a result, a two- to three-month pre-production schedule was shortened to a paltry three weeks, and the shooting schedule also was cut short, to 25 days. Altman's producers are used to filmmaking on the fly — it's part of the director's style.
"Bob works fast," said producer Josh Astrachan. "He always has and he will be again now."
Very little prep time
However, producer David Levy acknowledged that the tight schedule had "impacted our prep" and that "in a perfect world, we'd probably take another week of shooting time to get this done."
Altman himself was silent on the matter. Levy said the director "didn't feel he had anything to say about the film at this point in the production."
"We shipped a semi load of stuff out of here three days ago — and now there's this!" longtime Fitzgerald jack-of-all-trades Dan Zimmermann said wonderingly, as he gestured around the theater's basement.
Where a regimented assortment of steel storage shelves, stacks of lumber and paint-can clutter had stood just days before, whimsy now reigned. It was a dressing room with freshly painted frog green walls, apparently furnished out of the 1940s. A worn Oriental carpet covered the concrete floor. Feather boas hung on the walls, and an orange-print scarf drooped languorously from an overhead light fixture. Racks of pink and black taffeta slips and other garish costumes stood at the ready, and several hat trees were semi-filled with an odd assortment of women's chapeaux.
In short, they were just the kind of trappings you could find at a funky 30-year-old radio show that had been furnished at first with old theatrical odds and ends, then never updated.
Scott wandered around the newly transformed basement and marveled at the transition, especially that of the "PHC" lunchroom, which was now a makeup studio, the domain of her character, Donna, the makeup lady.
She expected to be cast as herself in the movie, and was delighted to get an actual role.
"I don't get to kiss anybody, but I'll get to touch all their faces," she joked. "I'll be putting makeup on all the guys."
Russell described his character, Al, the stage manager, as "a dour personality; sort of Midwestern and not unlike my own, if you ask my wife." An added plus: "I get a line with just about everyone in the film."
The rushed schedule doesn't faze him a bit. "Garrison runs his show on a tight time schedule, so this is pretty normal for us."
Trademark technique
Scott got a full dose of Altman's trademark filming technique during a recent meeting with the director. It's one of the reasons that high-profile actors forgo big salaries to appear in his modestly budgeted films.
All of the actors wear microphones at all times, which produces Altman's signature overlapping dialogue.
"He said there would be three to four cameras going at all times," said Scott. "So we have to improvise even when we're not in a scene."
Also improvising will be extras chosen from the 1,000-plus people who registered with the production during the past two weeks. Debbie DeLisi, whose New York-based company is supervising extra casting, said, "the amount of interest and talent has amazed us."
On the surface, Keillor and Altman differ dramatically.
Keillor is a soft-spoken, shy and often silent man whose gentle humor can mask a sardonic edge. Altman is a boisterous maverick whose frequent rants against mainstream Hollywood may explain why the gifted director hasn't yet been honored with an Academy Award.
Keillor is a solitary writer whose words rarely are changed by anyone except him. Altman's filmmaking style, which leaves room for unscripted moments that can transform a film, has often led to clashes with screenwriters.
Yet, it's that last-minute editing style that brings both men together.
"He's very open to surprises," said Keillor in a recent e-mail. "I asked him if he'd accept my writing an angel into the movie and he thought about it and said, `Yes, but no aura.' So she's in [played by Virginia Madsen] and he's come to like her a lot."
Keillor also is prepared to see his screenplay change during filming — within limits.
"I draw the line at animals or small children. If he decides to include a dog on a leash held by a 10-year-old girl with long curly blond hair, we've got problems."