Mpls.St. Paul magazine published Tim Russell's behind-the-scenes diary of the making of Robert Altman's "A Prairie Home Companion" movie in their November 2005 issue. If you missed reading Russell's insider view of the latest Altman movie on the newsstand, here's your chance to check out "My Prairie Home Movie: A Diary by Tim Russell."
(Photos by Melinda Sue Gordon)
—
"My Prairie Home Movie: A Diary by Tim Russell"
When we found out Tim Russell was joining the cast of The Last Broadcast, AKA "The Prairie Home Companion Movie," we called to ask him to keep a diary. The radio show veteran and WCCO Radio regular was happy to oblige.
Wednesday, May 18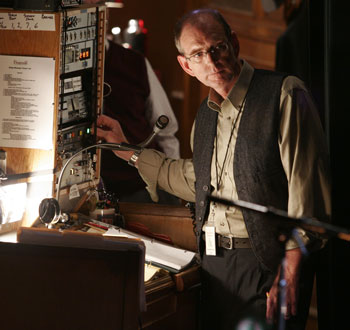 I found out today that I will be playing "Al, the Imperious Stage Manager" in director Robert Altman's film based on Garrison Keillor's A Prairie Home Companion. Wren Arthur, one of the film producers, called with the good news and said a script would be mailed to me soon. I won't believe it until I see the script Garrison has written. She gave me the list of stars who will be in the film with Garrison: Meryl Streep, Lily Tomlin, Kevin Kline, Lindsay Lohan, John C. Riley, Woody Harrelson, Virginia Madsen, Mary Louise Burke, L. Q. Jones, Maya Rudolph. Holy cow! The fee is scale, which for me is big, but it's safe to say that a lot of the stars are working for less than usual just for the privilege of working for Mr. Altman.
Tuesday, May 26
I'm finally delivered a script. Yippee! I have lines on twenty-eight pages, and scenes with everyone except the "Ax man"—who comes from the Texas corporation that now owns the station and plans to shut down the radio show forever—a role yet to be cast.
Wednesday, June 15
Today I have a meeting with Bob Altman. He's been to the show several times and has always been very complimentary. I'm glad he was able to convince Garrison to write the screenplay. He wants to see me and Sue Scott, a fellow actor on A Prairie Home Companion for the past eleven years. We're the only radio show members to be cast as characters—but Jearlyn Steele, Robin and Linda Williams, Butch Thompson, and the other musicians will be playing themselves. Sue has been cast as "Donna, the Makeup Lady." I arrive before Sue. Bob is sitting in the corner of his office. He's very genial and introduces me to David Levy, a producer on many of his films. Bob tells me they want us for the film because the radio show has around 4 million listeners around the world each Saturday and it would be nice to utilize part of the radio family. Sue arrives, and Bob asks us if we feel comfortable in our roles. Of course we do! Who would say no? I tell him that my wife would say the role of a grumpy worrywart trying to keep everything together for one final broadcast is pretty much typecasting. He tells us he expects us to be creative in the "business"—which is the shtick actors create to fill out each of their scenes.
Afterward, we meet several producers and assistant director Vebe Borge, Victor Borge's son, who we had met in Chicago last week during our appearance at Ravinia Park for a broadcast of APHC. Pictures of all the stars—including Sue and me—line one production-room wall. Mine is from a show this year when Garrison did some last-minute editing of a "Catchup Advisory Board" commercial by putting both arms around me, holding the script steady with his left hand and editing it with his right while I was reading it live on the air. It's a great shot that seems to capture, for the film people, Garrison's spontaneity and the magic of live radio. We also find out that Tommy Lee Jones is joining the cast as the Ax man.
Wednesday, June 29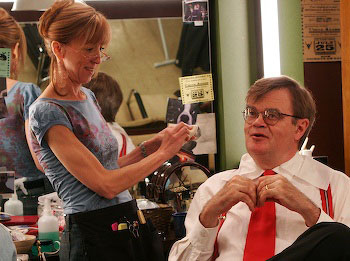 Shooting begins today. Meryl Streep and Lily Tomlin, who play "Yolanda and Rhonda Johnson, the Singing Johnson Girls," and Lindsay Lohan, who plays "Yolanda's Daughter, Lola," will film in the basement of the Fitzgerald Theatre, which has been transformed into a number of dressing rooms with a distinctly retro feel. We have to shoot out of sequence so they can leave by the end of the second week. Sue is involved in the background.
Friday, July 1
Sue and I fly out to Tanglewood in Massachusetts for the final APHC broadcast of the season. She fills me in on the amazing work being done and what a big production it is, with dozens of people scurrying about to make our insanely short shooting schedule (twenty-five days) as efficient as possible. I start on Tuesday, the 5th. I'm very excited.
Tuesday, July 5
Today is my first day on the set. My wife, Judy, is an extra, so I'll have at least one person to console me if I find out my role has been taken by Will Ferrell. I'm shown the Hanna Brothers LA food wagon, where the crew can order breakfast. The caterers also prepare a daily lunch buffet about twenty yards long—served in the Minnesota Business Academy (the former science museum). I go to the makeup trailer where on the first day of shooting there was bedlam, with film crews, paparazzi, Lohanophiles, and gawkers. Today, there's nothing. I introduce myself to a producer who directs me inside where I sit between Kevin Kline and John C. Reilly. My makeup is not a huge priority. It's very simple, anti-sweat lotion and powder, especially for my balding pate. Sue introduces me to Kevin, who is playing "Private Eye Turned Security Guard, Guy Noir". Kevin's known for his endlessly creative research into the characters he plays. They have been discussing the radio version of Guy Noir. We exchange pleasantries, and I introduce myself to John C. I'm promptly moved along after Terri, my makeup person for the next three weeks, does an excellent job of reducing the glare of my dome.
I finally get to see the Fitzgerald, and it's great. The lobby has been painted and given the same retro treatment as the basement. The wing where we usually hang during the radio show has been turned into a 1940s-era wood-paneled office for Guy Noir. It's all very cool. The rehearsal blocking of the day's first shot starts at 12:30. It's a performance scene with the Johnson Girls singing a Garrison original, "Farewell to Mama." I'm standing, well lit, on stage right, at the stage manager's podium, my home for the next three weeks. My job here is to look like I'm directing the show. I have a body mike and am just making up things to say, calling for lighting shots, throwing cues at random. Who knows if they will use any of this, but I try to look cranky and professional. At 1:30 p.m., Bob starts shooting. We do three or four takes before a live studio audience. Judy is in the audience and mouthing, "Sit down," meaning rest between takes. But when you're on stage with Meryl and Lily in a Robert Altman film, you could be hanging from your thumbs and not think twice about it.
In between takes, I notice Woody Harrelson being greeted by John C. They play "Dusty and Lefty, the Singing Cowboys," and they are in fantastic costumes. Woody has on some kind of "pleather" hat, duster, and boots, because he won't wear any kind of animal hide. But you could have fooled me—he looked right off the lonesome trail. John C. is decked out in the real thing, including leather chaps
. They both have their own guitars and play and sing in real life. They immediately start jamming. The Guys All-Star Shoe Band—Rich Dworsky, Pat Donohue, Arnie Kinsella, Gary Raynor and Andy Stein, with Peter Ostroushko and Butch Thompson sitting in, pick up on the tune and a full-fledged jam session is under way, much to the delight of the audience. John C. also has a lariat and starts to master some rope tricks. Kevin is in costume and keeps looking for new business to do: He's always coming up with new ideas for the prop department—nylon stockings, garter belts, papers for hand-rolled cigarettes, stuff he can pull from his desk drawer at some opportune time.
We break for lunch after blocking for a performance by Meryl and Lily singing "My Minnesota Home," another Garrison original. I introduce myself to Meryl, who says she's a "big fan" and loves the radio show. I meet Lily, and she recognizes me from our APHC appearance at the Hollywood Bowl in June. It's all pretty heady stuff. I meet Virginia Madsen, who plays "The Dangerous Lady," and commiserate about her shoes, high platforms that look pretty uncomfortable. My costume is a button-down shirt, a wool vest, black slacks, with a Leatherman tool on my belt, and new Rockport shoes, which start digging into my ankles immediately. I beg the wardrobe person, Cat Thomas, to let me wear my own broken-in casual shoes. No problem. I talk to Garrison about my character. When I tell him I am considering giving Al a light Minnesota accent, long o's included, he advises me not to box myself into a corner or I won't have anywhere to go with my voice in later scenes when I have to get really agitated. Good advice.
After lunch/dinner, it's time for Meryl and Lily to sing. Judy has been in the audience for both performances and is in tears both times—the songs are that moving. We wrap at 9:00 p.m. or so. It's been quite a day. So far, no lines, but I'm always in some camera shot so I have to look like I'm in charge.
Wednesday, July 6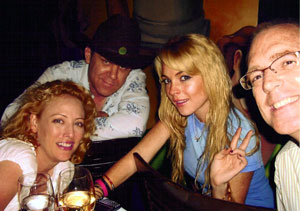 The call time today, and pretty much for most of the shoot, is 11 a.m., which is nice, because I've decided to keep working at WCCO Radio as entertainment editor for The Morning News with Dave Lee from 5 to 9 a.m. Today's shoot features Lindsay singing a fractured version of "Frankie and Johnny," which leads to songs with Jearlyn Steele and then to the show finale and curtain bow. Cameras are set by 1 p.m. Bob usually arrives at noon to discuss shots and camera movements, and then we rehearse and shoot. During the noon hour, I camp out in Guy Noir's office with Woody. He's plunking away at his guitar and says, "You're awfully quiet." I introduce myself and tell him I play the stage manager. "Do we have any scenes together?" he asks. I tell him about the scene where I scold Dusty about an obscene song the Singing Cowboys sang. I give him a few raunchy titles Dusty might use, and he likes the idea. We talk about our mutual friend, Chris Mulkey, a fine character actor who worked with Woody last winter in the Charlize Theron movie North Country, which was shot on the Iron Range. Meanwhile, John C. is now entertaining the set with two lariats. Local entertainer Pops Wagner has been giving him lessons, and he's a fast learner.
We're ready to go at 1 p.m., and Lindsay runs through her number before the audience of extras. She does a great job. I introduce myself to Lindsay, who is very tiny, but not dangerously thin as the tabloids had been reporting. She looks like a perfectly normal teenager. She says "hi" in a pleasant way, but I'm thinking she's thinking, "Back off, geezer." After several takes, we break at 4:30 p.m.
At 5:45 p.m., we're back to block a scene involving me, Meryl, Lily, Lindsay, and Maya Rudolph, who plays "Molly, the Stage Manager's Assistant." I read the clock, which Maya has secretly tinkered with, and see that we have six not two minutes left, whereupon I ask Meryl and Lily if they have anything that long to fill the time. Meryl uses the opportunity to get Lindsay to sing something. This scene leads up to the shot we did this afternoon. Very little, it seems, is shot in sequence in a Hollywood movie.
Thursday, July 7
We're shooting a scene with Garrison and Meryl singing a duet, then Meryl and Lily join Garrison and Tom Keith, the "Sound Effects Man," in a series of commercials, including one for duct tape, at which point Maya runs out with the wrong script and the group has to ad lib as scripts tumble to the floor. Then I run out to try to help and chaos reigns supreme. Finally, Jearlyn sings a coffee commercial. It's a nine-minute scene and requires a few takes to get the timing down. This is quite a workout for Maya, who is expecting a child with actor Paul Thomas Anderson in November.
After the dinner break, we start with a shot that involves some complicated camera moves as we follow The Dangerous Lady down the long atrium alley through Guy Noir's office, at which point Kevin follows Virginia to my desk where they have a dialogue. Because of the camera setups, my back, elbow, or more probably my bald spot, is needed in the shot, which means I stand at my post until about 10:15 p.m. I have the script in front of me on my podium, and before the first rehearsal, Kevin asks me about a line. When the rehearsal starts, he pauses at the spot he asked me about, so I give him the missing word. Kevin says, "I'm acting, Darling," and Virginia says, "We'll tell you when we need a line." Ooops! I never claimed to be a veteran at this. I apologize to them after rehearsal, and Virginia laughingly says, "That's OK, you were just being the Stage Manager." Yeah, that's right—I'm a Method actor. That's the ticket!
Friday, July 8
Our first shot is of the Johnson Girls arriving at the fictional last broadcast. They walk down the long Fitzgerald Atrium walkway toward stage right, through Guy Noir's office, then onto the stage, where Yolanda reminisces about the past thirty years with the show to Lola, and discusses the final show with Guy Noir. The scene leads to the shots completed the week before, and DruAnn, who keeps track of the script and continuity, remembers that Meryl had some scripts in her hand as she came down the stairs. I suggest that I hand her the scripts as she walks past, thus working my way into the scene. Sneaky me! On the first take, Meryl, Lindsay, and Kevin make their entrance. I complain that they're always late, hand the scripts to Meryl, and she says, "Thanks, Tim." Before the second take, I timidly remind one of the greatest actors of our time that my character's name is Al, I'm Tim. "Of course," she laughs and then moves on to perfection in all the other takes. Kevin follows Meryl and Lily across the stage, helping them with luggage and merchandise (e.g., Johnson Girls guitar-shaped fly swatters). When Yolanda asks Guy Noir what will become of the fake farmhouse prop, he replies that they just moved a dumpster in behind the theater—and Kevin comes up with some great comedic business, including using the swatter to whack a fly on the cymbal of a drum kit, then picking up the fly and putting it in his coat breast pocket.
I notice Fisher Stevens, an actor (The Fisher King), director, and producer, on the set. Last year, he produced Factotum in St. Paul, starring Matt Dillon, which was a hit at this year's Cannes Film Festival and should be released soon. It turns out that his production company, Factotum, is an investor in our movie.
Our second
shot involves Meryl, Lily, Garrison, Lindsay, Sue, and me, and we discuss the death of "Journeyman Songster, Chuck Akers" (I'm told that's the pseudonym used by Chet Atkins when he was staying at a hotel), who dies in his dressing room before the show. The scene is difficult to block because of the cramped conditions in the stage right wing, where Guy Noir's office is located, but Bob is a real genius at figuring out where the camera should be placed and quickly comes up with a plan. We run though the scene a couple of times. Each time, Lily tries out her new line, "Do I look drunk, cuz I am," causing Meryl and Sue to break up, shaking with laughter instead of grief over Chuck's death. In between takes, Meryl starts singing the beginning of "I Fall in Love Too Easily" and tells me she can't remember the next line. It happens to be one of the few songs that I know, so I sing "I fall in love too fast." We finish the song together. Wow! Back to the scene, which requires an emotional outburst by Lola, who's upset that Garrison is not going to do something special to mention Chuck in the final moments of the show. Lindsay has been sitting between takes, listening to her iPod, working up real tears, and is ready to go at every take. Garrison says later that she is so authentic in her anger that even though he has written the words; he can't help but be affected by it every time.
We wrap at 8 p.m. Sue says that Meryl has invited people to join her for dinner, her treat. I call Judy to let her know so she can join us. Sue suggests that on the way to the Saint Paul Hotel, we stop at Mickey's Diner to do some research for an all-night shoot scheduled for tomorrow. In this epilogue scene, which brings all the characters back together some years after the last broadcast, Sue will be "Donna, the Waitress," and I'll be the "Short Order Cook." The people at Mickey's are very helpful and give us some lingo.
We walk to the Saint Paul and run into Lily in the lobby. It's the first time I've seen her out of her bright red wig, and she finally looks like the real Lily. She calls Meryl to find out where we'll eat, and Meryl says Pazzaluna and that she'll be right down. Lily goes to shower, and I call Judy to tell her where we're going. Meryl comes down, looking lovely in jeans and a shawl.
Sue, Meryl, and I walk across the street to Pazzaluna. The staff is very accommodating when we request a table for maybe ten or so. Hey, why not? It's only Meryl Streep for God's sake! They direct us to the bar, where I buy Sue and Meryl a drink. Meryl tells us again how much she enjoys A Prairie Home Companion, and we ask her about her stay in St. Paul. She rented a house in Highland Park, and she and her daughters had a wonderful time driving around, enjoying the thunderstorms, et cetera. She moved to the hotel after her daughters went home because she was lonely. Virginia shows up and joins us. Shortly after, Lily arrives, and we discuss the project. They are all in love with it. We talk about Kevin and how funny and graceful he is. At this point, several diners whip out their cell phones to talk about the movie stars sitting across from them. They ain't seen nothin' yet. Virginia tells us she ran into Woody and John C. and they are coming with Lindsay.
I excuse myself to go to the men's room and can feel the room wondering who the guy is surrounded by all the movie stars. Judy calls to say she's running late trying to decide what to wear. I plead with her to hurry—there's some serious star power in the house. On the way back, I see John C., Woody, and Lindsay walk in and tell them that we have tables for them right this way. Lindsay says, "Look, he's even playing stage manager here." We settle into the backroom and discuss a wide range of topics: How great it is to work with Bob, the great screenplay by Garrison, and what a genius he is. Meryl is seated next to me, and we talk about movies I've seen recently. Woody is on the other side of me and asks me to bite the end off a strawberry he's holding because he doesn't like the ends. So I oblige. It turns out to be rubber. He's delighted—and tries the gag on several others. Lindsay, next to him with one of her girlfriends next to her, is talking into her wireless headpiece for her Blackberry, or text messaging, or taking pictures with her digital camera. Meryl and Virginia give her some heat for talking to her agent at dinner: "Make them wait until the next day!"
More people arrive—producers, makeup and wardrobe people, the interns, including NBC anchor Brian Williams's daughter Allison. Judy finally arrives in a stunning outfit; lots of positive comments from the ladies. I wait to introduce her to everyone, but they are discussing the London terrorist attack. Eventually, I introduce Judy, and Woody moves over so she can squeeze in. He says, "Your husband is such a mensch. I sat in your chair for twenty minutes, and he never said a word."
Judy bonds with Lily, telling her some shopping ideas—for example, Larue's on Lyndale. Meryl says she knows Lyndale, that's where the Jungle Theatre is and that she took her daughters to Tatters to shop. Lily tells us her real name is Mary Jean and that she took her mother's name for show business purposes. Her mother is ninety-one and in ill health and Lily is going to see her after the shoot tomorrow.
Everyone eventually orders, and around 10:30, Meryl leaves. I ask about the bill, and the waiter says Ms. Streep put it on her card. Lily tries to pay, but is told Meryl had insisted it be her treat. At that point, the bill was $1,200. Yikes!
We decided to bail at 11:30 or so, just about the time Kevin walks up. He had fallen asleep and just awakened. I introduce him to Judy, who's his biggest fan. A lot of folks are outside smoking or chatting, and before we drive off, Woody comes over to say goodbye. He sticks his head in the car window, and we talk about mutual acquaintances in LA, at which point, Lindsay sticks her head in and starts to do a Woody-like monologue: "I don't consume dairy products, or abuse the environment . . . ." It was pretty cute. What a great, fun night.
Saturday, July 9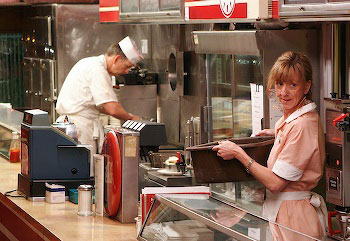 The all-night shoot at Mickey's Diner is the only time we will be filming outside the Fitzgerald. Our director's chairs have been brought over from the theater. It's rather surreal to see your name embroidered on the back of a chair next to the names of all these Oscar winners and nominees. If nothing else, I've got a picture of Lindsay leaning on the back of my chair, with Kevin, Meryl, and Woody in the same shot. As blocking for the shot starts at about 6:30 p.m., maybe fifty people are across the street. Lindsay is wearing cutoff jeans and a plaid shirt, and as soon as she arrives, the long lens comes out. Later, most of the shots will appear in a two-page spread in Star Magazine.
Garrison chats with Bob about the eventual title of the film, and I hear him agree on The Last Broadcast. Woody asks me if I play chess. He has a little fold-up magnetic chess game and is looking for someone who can "kick his ass." I would not be a challenging partner for a game of Uno. Fortunately, Garrison hears the call, and though he says he's a little rusty, the two start a game. As the camera setup continues, I chat with Fisher Stevens who's concerned about the ending and how it might be tweaked. He calls Josh Astrachan, one of the producers, over to talk about it and suggests that maybe the film could end with Guy Noir on a deserted stage noodling on the piano, w
hile we see the farmhouse set end up in the dumpster. The scene at Mickey's could play as an epilogue. They agree to talk to Bob about it the next day. Another scoop! My big ears—a burden as a first-grader—are starting to pay off.
As a small nod to the fans of the radio show, Bob has Sue and me in the Mickey's shot. My job as Short Order Cook is to pretend to cook up a storm, which requires lots of miming and griddle-scraping motions. My lines with Sue are cut to condense the scene, and after some rehearsals, we break for dinner. At about 10 p.m., it's finally dark enough to begin shooting. Garrison, Meryl, Lily, and Kevin are all seated at a booth. Sue and Kevin had worked out a little business with him constantly changing his order, much to my character's consternation. Woody and John C. walk in, take a seat at the counter, and there's lots of good-natured ribbing. Then Lindsay walks in and joins the pair. Lola is now a financial consultant in a business suit who has concerns about her mother's plans to continue the Johnson Girls act. Virginia, The Dangerous Lady, walks in and everyone pauses to evaluate whose life may be in danger. This scene needs some outside atmospherics, so in between takes, a truck hoses down the street and the diner to great effect. Bob announces that this is a wrap for Meryl, and a warm round of applause and goodbyes follows. She'll be missed.
At 1 a.m., Lily orders $1,000 worth of sushi from Saji Ya for the cast and crew. After a break, the scene continues until 3 a.m. Then the crew sets up across St. Peter, kitty corner from the diner, to shoot what will be part of the opening shot of the movie, establishing the Guy Noir character in a visual homage to the famous Edward Hopper painting Nighthawks, featuring a lone urban diner. I'm still at the grill. Kevin is at the counter. Then he pays and leaves for the Fitzgerald Theater, walking toward the camera across the street. Smoke is needed, so the griddle is fired up, and I add a little cooking oil—and suddenly there is a lot of smoke. It wasn't too disruptive, perhaps because earlier Mickey's air conditioning had been augmented with two more units—because Kevin is very particular about keeping the set cool when possible. In between takes, it's just the two of us, so we have some fun with imagined banter. I try out my Pakistani accent, and he creates lots of funny non sequitors in response. I even try to fry some eggs using one hand to hold the griddle and another to crack the shell, dropping in the egg with one fluid motion. In every take, there is more shell than egg in the skillet. We finish at 5:30 as dawn is breaking.
Tuesday, July 12
This is the first big day for Woody and John C. We set up and shoot their "I Am an Old Cowboy" song, but Bob decides to get L.Q. Jones, who plays Chuck Ackers, into the act. He has big energy and is hale and hardy, just like the character. Robin and Linda join him to sing. The extras have been brought in and enjoy the performance.
Things are quickly set up for the Cowboys' first number. Woody and John C. have been jamming for a week. The extras are most appreciative, but they have to mime their applause. The assistant director gave them the go-ahead to applaud for real before the last take, and they are taking advantage of it as the boys knock it out of the park.
Wednesday, July 13
Garrison and Lindsay have a scene that has been moved to stage left, which means Maya will do a couple of my lines. It also means creating a new space on stage around the Fitzgerald's wonderful theater organ, which can be raised from below. It seems only right that it make a guest appearance. The scene is very sweet, with Garrison describing his relationship with Lola's father. When I see this scene later in the week, I notice two things: Garrison looks great on camera, and there are way too many people milling about backstage. Things are considerably more stable on the real Prairie Home show. After the scene, Bob announces that it's Lindsay's last day, and there's a big round of applause and hugs. Then we set up for another performance by the Singing Cowboys.
After dinner, the extras are brought in for the Cowboys' second song, "Bad Jokes," a song Garrison wrote that strings together some semiraunchy jokes with a real toe-tapping melody. It's a big hit, and on the final take the boys do an extended-play version with even raunchier jokes ("Why do they call it PMS? Cuz mad cow disease was already taken"). This is the song that in a later scene will cause me, as the stage manager ever worried about those FCC decency fines, to blow my top.
Thursday, July 14
As part of my job as entertainment editor at WCCO radio, I scour the papers for information every morning. That's how I found out yesterday morning that Lily's mother, Lily Mae, passed away. Lily left the set last Saturday, after the shoot at Mickey's Diner, to visit her. Her final scene is with me today and, trooper that she is, she shows up on time, subdued but ready to work.
We start blocking the scene, me getting apoplectic about the Cowboy's "Bad Jokes" song. Bob decides it would be fun to have Tom Keith, who has been the real sound effects man for the radio show for the last thirty years, provide some sounds reacting to the raunchy song and to what Lily and I say to each other. It's tricky, because it involves a playback of the soundtrack filmed yesterday. They rig Tom and me up with a wireless earpiece so Tom can react and I can talk to Lily in real time. It's called an "ear prompter" in the voice-over business, and I've used it many times to do long monologues on camera in industrial films.
We all extend our sympathies to Lily and begin the shot. It takes awhile to get the timing right. Things come together, and Bob says it will either be very funny or very weird. In the scene, Lily also tells me Chuck Ackers has died in his dressing room. It precedes the backstage shot we did last Friday with Garrison, Meryl, Lily, Sue, and Lindsay. Bob's wife, Catherine Altman, who has been very sweet and complimentary to those of us from the radio show, tells me the scene worked very well. We'll see. Bob announces Lily's departure, and there are lots of hugs, applause, and tears, and she leaves to attend to her mother's funeral. The adage, "the show must go on," gets another workout.
We then do a scene with Woody, Kevin, and me. Kevin comes with more inspired physical shtick regarding a phone call to me with news that the Axeman has arrived.
The next scene is between Virginia and Mary Louise Burke, who plays the "Lunch Lady." Mary Louise made a huge impact as Paul Giamatti's mother in Sideways and has made an art of portraying dotty mothers and aunts. Mary Louise tells me about her good friend, T. R. Knight, a young actor who went from the Guthrie to Broadway to the new hit TV show Grey's Anatomy. I used to do radio commercials with him when he was about eight years old.
Friday, July 15
Today's scenes include knockout performances by Jerilyn and Garrison singing Garrison's songs. Bob decides to film some numbers by the Guys All Star Shoe Band, and they respond with amazing skill. Those who aren't familiar with the talented musicians are blown away. It's a great way to end the day's filming.
At 9 p.m., at the production offices on 10th Street, there's a screening of the "dailies"—some of the scenes that have been shot so far. It's been three weeks, and everyone is wondering what this thing looks like on film. We see many of the performance pieces, and it all looks great. It's raw footage and from just one camera&
#8217;s perspective, but I see that depending on the editing, I could easily be left on the cutting-room floor. The lights go up, and there is a thunderous applause for Bob that lasts for about a minute and a half. I think he had a tear of gratitude in his eye as he pronounced the work "adequate," his favorite term of endearment.
Monday, July 18
We're starting with a new scene Garrison wrote to set up the second half of the show. It gives me new lines about the station owners who sell out the show, and another chance to be in a scene with Kevin, Maya, and Garrison. We rehearse a few times, and Jimmy, one of the camera guys, pulls me aside to remind me to "look for the light"— in other words, know where the camera is at all times, or I could be blocked out of the shot. Evidently, Hollywood actors don't need this kind of reminder, so I'm most appreciative.
Tuesday, July 19
We're taping the action as it moves from downstairs to upstairs. The camera follows Garrison, Maya, L.Q., Robin, and Linda as they leave the makeup room to go upstairs to the front of the stage as the curtain is just about to rise. Garrison still has his makeup bib on and had planned to remove it when Maya cues him, just before the curtain goes up, but when we do the actual shot, he forgets to take the tissues off. I notice it and signal Maya. She goes back to center stage as Garrison sings the opening theme song, and she yanks the tissues from his collar. Bob loves it and tells Maya to keep doing it on subsequent takes.
We shoot the big scene before the call to bring everyone onstage for the beginning of the show. Bob tells Maya and me that he's combining several scenes, and he ad libs a whole page of dialogue for us. It's a chaotic shot, and as the take comes to a close, I remember the Stage Manager's Serenity Prayer I found in my pre-movie research: "God grant me the serenity to accept the things I cannot change, the courage to change the things I can, and the wisdom to kill any stagehands who piss me off tonight." Everyone is talking at one time, so who knows how it will work.
More dailies tonight. The stuff looks great again, and my Serenity Prayer gets a big laugh—and a thumbs-up from Kevin. Life is good.
Wednesday, July 19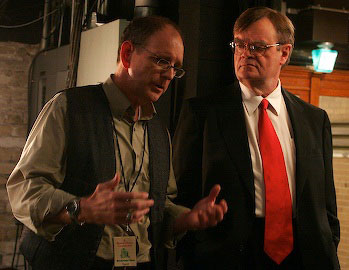 It's a big day for my side of the stage. We do a long scene that involves Kevin, Woody, John C., Mary Louise, and me. I have a long dialogue with Kevin as I quiz him about Virginia. We have a lot of fun rehearsing, and Kevin never does the same thing twice. It's a long scene and will probably be edited with another done two weeks ago. It also has me reminding Dusty that the Singing Cowboys have to clean up their act, and he tries to remember which obscene song I'm talking about. Woody uses two or three of the raunchy titles I gave him earlier, and nobody complains.
Bob calls me over and tells me it's my last shot and thanks me for my efforts. It's a little premature though, because Garrison wants me to do a voice-over for a commercial about to be filmed. I stick around for it, then Drew, the sound guy, remembers he needs me for a bunch of voice-overs for the announcements I have been making as stage manager in all the other shots. They can't do it until after the last shot of the day, so five hours later, I am finally wrapped. It's kind of an odd feeling to be cut loose after all the excitement. What a weird lifestyle this must be, going from family to family, one film to another.
Saturday, July 23
There's a showing of dailies today for some financial backers. Everything looks great. The producers answer questions about the shoot and are very complimentary about how the community has handled it. They consider it a blessed project and hope to shop around a finished project by the end of November, with a first screening possibly in January at Sundance.
Tonight, Woody is having a birthday party at a house he's renting in Highland Park. It is unquestionably the hottest day of the year, but Woody is an environmentalist, so he doesn't believe in air conditioning. Everyone stays out on the front lawn. It's a good turnout, John C., Virginia, Maya, even former governor Jesse Ventura and his son, Tyrell. As people line up to chat with Jesse, I talk with Tyrell about his life in Hollywood. I introduce Catherine Altman to Jesse, and then have a good talk about impersonations with Brian Williams, who's here to see his daughter Allison, one of the production assistants, and a favorite. He tells me that when he got back after covering the tsunami in Indonesia last December, he went directly to The Town Hall Theater to see A Prairie Home Companion in New York City. He does the best Tom Brokaw impression I've ever heard, and he isn't shy about doing it. He's a very funny guy and smart. The food was raw vegan, adventurous but delicious. We headed home at 10:30, with the Aquatennial fireworks finale lighting up the skyline.
Epilogue
I never did get to meet Tommy Lee Jones, because he came into town to do his scenes the following Tuesday, so I guess I'll never get to show him my promise as an action movie guy. Oh well, the experience has been a once-in-a-lifetime thrill. Now comes the waiting to see if I made the cut. Even if my bald spot is the only thing that survives the editing process, my dreams of participating in a big-time movie came true, and that's good enough for me.