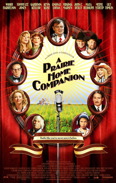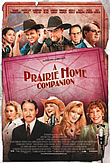 Picturehouse Studios wanted to let folks know that they've launched a new Web site for the movie A Prairie Home Companion, directed by Robert Altman with a screenplay by Garrison Keillor. Please visit aprairiehomecompanionmovie.com.
The new posters for the film are on the site as well as lots of exciting new features. Look way down on the list of Oscar Superstars and you'll see the names Tim Russell and Sue Scott.
To see the teaser trailer that features Tim as "Al" reacting to Woody Harrelson and John C. Reilly singing their Risque song go to the new website, click on "Trailers", then click "on Teaser".