We were looking forward to our second appearance at the fabled Hollywood Bowl in Los Angeles. On board with us were three of the stars of Garrison Keillor and Robert Altman's new movie, " A Prairie Home Companion" , Meryl Streep, John C. Reilly and Virginia Madsen. All three are self-professed long time fans of Garrison's show and when we met Meryl and Virginia on Thursday for a read-thru at the Hollywood Roosevelt Hotel, they were giddy with excitement. John C. had a talk show appearance to promote the film so he missed that rehearsal. Garrison had written a couple of long scripts to give them all plenty to do and we sat around a table going thru the first drafts. After the read-thru, Meryl and Virginia hugged each other and said something like "We're going to be on the RADIO!". It was fun to see their enthusiasm.
The show on Friday turned out to be in front of the biggest crowd in PHC history, around 16,000. Everyone showed up for rehearsal at 4pm for the 8pm show. This was a rare occasion where the show would be taped for broadcast the next day. We read the new drafts of Garrison's scripts on stage in the blazing late afternoon sun. The temperature was an uncharacteristically high 95 degrees. Garrison said there would be another rewrite, and after rehearsing some of the songs he would sing with Meryl, and other elements of the show, we broke for dinner.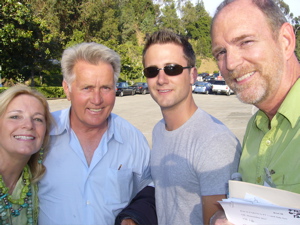 Tim's wife Judy was bringing their nephew up to the backstage area to say hello when she spotted Martin Sheen coming toward her from the parking lot. Lily Tomlin, another star of the PHC movie, and TV's " The West Wing" had told Judy that Martin was a big fan of Garrison's, so she felt it would be OK to say hi. He was thrilled to talk about what a big fan of PHC he was and how he'd been listening for years. He said at last year's show he brought "Tony Hopkins", Sir Anthony Hopkins to movie fans. Tim called Judy's phone to see where she was and she said, "I'm talking to Martin Sheen!" Tim walked down the hill to meet him and invite him backstage after the show. Martin said he had a "gaggle" of 11 family members and friends with him and that he was kind of shy about doing that. Tim convinced him it would be just fine. He seems like such a nice guy, very energetic and complimentary.
Just before 8pm we received our new scripts. We,(Sue and Tim and Fred Newman), are used to the last minute changes but we were sure the Movie Stars felt a tinge of nervousness about the unpredictability of live radio.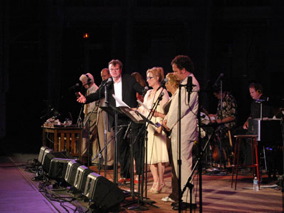 The Stars were great in all the scripts. John C. Reilly did his vulnerable good guy character as a milkman to Meryl's multitalented old-time radio star in one script, Meryl was beyond comopare all night , both in acting and her lovely singing, and Virginia Madsen stole the show as a ditzy blonde with a passion for charitable causes like "dog dyslexia" in a script that, because of time constraints, was eventually edited out of the show for broadcast the next day. Sound engineer Sam Hudson had the job of trimming 40 minutes from the show that night on the "Red-Eye" flight back to the Twin Cities. Hopefully that sketch will show up in one of our special ,"Best Of", repeat shows.
After the show we met a lot of folks back stage. Wes Stevens, the head of the LA Voice agency VOX, whom we both just signed with, and the talented voice casting directors, Cathy Kalmenson and her husband Harvey Kalmenson, of Kalmenson and Kalmenson, greeted us with enthusiastic comments about the show. Both confirming their excitement about working together. Lot's of friends and family and some of the celebs in attendance too.

Will Ferrill was there with his dad. He told us his dad, a musician, was a longtime fan of the show. They were there to support John C. Reilly who will be appearing with Will in a new comedy, "Talledega Nights". Martin Sheen showed up and seemed thrilled to meet Garrison as well as Sue and her husband, Ron. We saw lots of old friends who have become transplants to California, "The Minnesota Mafia". Meryl and Virginia and John all seemed to have had a great time and seemed energized by the chance to perform in front of a huge, live audience.