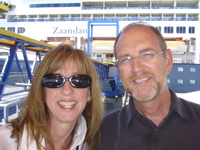 The Prairie Home Companion Cruise to Alaska embarked on Friday July 14, 2006. Prairie Home Productions rented the Holland American Line MS Zaandam for PHC fans to be entertained by the Prairie Home regulars and some special guests, not to mention the amazing natural sights of our 49th state.
Sue Scott and Tim Russell performed on the 4 Prairie Home Companion Shows during the week, joined by sound effects genius and fellow cast member Fred Newman and actor Erica Rhodes. Erica has been an occasional guest actor since she was 10 years old. She's now in her early 20's and is finishing her classes at an acting conservatory in New York.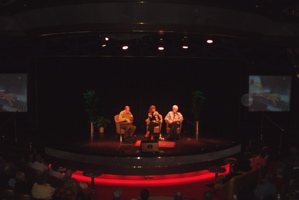 Sue, Tim, and Fred prepared a special show for the cruise, "A Conversation with Tim, Sue and Fred". Janis Kaiser, who does some lighting design and stage managing for PHC gathered a bunch of photos from show performances and, with a little help from significant others, some photos from our early careers, the idea being we could talk about these in an informal way, learning more about each other at the same time as the audience. This was followed by question and answer session. Everyone had a great time, and after two of these presentations we still had a lot of undiscovered photos to discuss, so perhaps we'll do this again next year.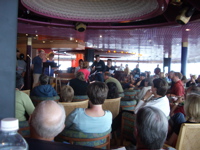 We also conducted two actor's workshops. This was an opportunity for cruise goers to be in an actual PHC script featuring 17 different characters. We picked two people to do the sound effects normally (or abnormally) done by Fred Newman, and others to do each different character (normally done by Sue and Tim). The participants had about the same time we have to do a quick read though, and Fred coached the SFX people, then we let them have at it. We even had piano underscoring by Charlie Barnett, a film score composer. A fun time was had by all and we discovered some very good actors in the midst of our fans on the ship
There were also several screenings of the "Prairie Home Companion" movie during the week. Sue and Tim and Jearlyn Steele were on hand to answer some wonderful questions about the making of the Altman/Keillor film.
The guests on the cruise were great, just what you'd expect from an intelligent, friendly group of PHC fans.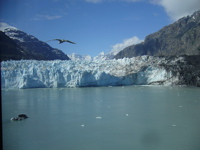 The scenery was magnificent. We look forward to next year's Prairie Home Companion Cruise, planned for July 2007 to Norway.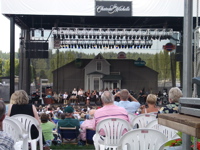 After the ship disembarked on July 21, everyone prepared for that evening's performance of "A Prairie Home Companion" at the Chateau Ste. Michelle Winery in Woodinville just north of Seattle. This was a logistical challenge for the PHC crew to say the least, made doubly difficult by the 95-degree temperature. Several thousand showed up in spite of the heat, and when the sun finally went down it was a beautiful evening. The show was taped for broadcast on July 29th.
Thus we conclude another broadcast season, the next PHC performance will be at the huge grandstand of The Minnesota State Fair on September 2nd.