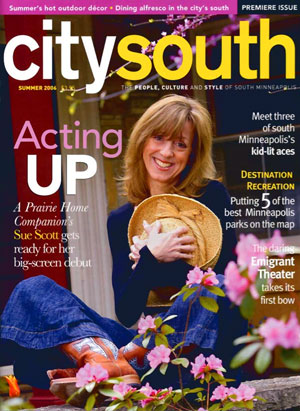 Acting Up
Veteran stage and voice actor Sue Scott gets ready to make her Hollywood debut, southwest Minneapolis style

By Erin Madsen Photos Todd Buchanan and Sarah Ause
Sue Scott glides into the café, quick to apologize for being late. I check the clock; she's two minutes behind schedule. She just needs a second to grab some tea and half a chicken curry sandwich. She reappears, again apologizing since it's taking forever to get the order. It's only been one minute.
"This sandwich better be good," Scott laughs, as she sits down. You can see Scott's Southwest roots in her style—cowboy boots, a cow-hair belt, long jean skirt and green cable cardigan. She is comfortable. She's tall, thin. There's depth to her. She tells stories that make you want to listen.
For the last 14 years, more than four million listeners have dialed in to hear Scott's vocal dexterity each week on Garrison Keillor's "A Prairie Home Companion." The radio show, broadcast live every Saturday evening, either from St. Paul's Fitzgerald Theater or theaters across the country, will get a new audience when the Hollywood version, a fictional account of the show's taping, opens June 9.
Just like the radio show, on which the 49-year-old develops and performs characters such as superhero reference librarian Ruth Harrison—a new recurring favorite of hers—Scott takes on the role of Donna, the make-up lady, in the film version of A Prairie Home Companion, co-written by Keillor, directed by Robert Altman, and starring an impressive ensemble cast that includes Lily Tomlin, Meryl Streep, Matthew Modine and Woody Harrelson.
"It was incredible fun to work with these people and the setting," Scott says. "I was a stage actor … before I was a radio person. The scale and scope of [the movie] was something I had never been a part of. I'd marvel at … the amount of downtime, the stamina and endurance of these veterans in our field who do this all the time.
The cast was friendly and accessible, not to mention quick to compliment one another, Scott says. "Meryl Streep is a big fan of our radio show, and she told Tim Russell and I one night, 'It's so fun to meet you guys! I've been listening to your voices all these years.' And Kevin Kline said something like that. And John C. Riley said, 'I've been listening to you since I was a kid.' And I went, 'Careful. Don't go there. You're not that much younger than me.' That was fun to be appreciated for what we do each week."
While the film marks Scott's Hollywood debut, the expert stage and voice actor has a list of credits that spans nearly 25 years in Minneapolis, where she lives with her husband, Ron Peluso, the artistic director for St. Paul's Great American History Theatre. The couple, who've been together for 18 years, married for 10, live in a cozy rambler on the border of Minneapolis's southwest lakes and St. Louis Park. (By coincidence, Tim Russell lives only two blocks away.) It's an area that Scott has remained loyal to since 1982, when she was cast as a company member at the famed Dudley Riggs' Brave New Workshop in Uptown.
Voices Carry
Anyone who watches Hollywood trailers or promos might have noticed, the film industry is luring celebrities to lend their voices to animated characters at an increasing rate. It's a trend that Scott finds fascinating, namely because roles now being sought after were once a lesser … work form for actors. "In the old days, [celebrities] didn't want that; that was left for people on our rung of the ladder," she says. "You can listen to TV or movies and, oh, there's Martin Sheen's voice, oh, there's so-and-so's voice. They seek that out now."
But that's not to say there isn't plenty of work available, Scott assures. In fact, she and Russell just signed L.A. agents—to compliment their local talent agents at Wehmann Agency—who can provide additional voice-work opportunities that cast a bigger net.
Scott considers "A Prairie Home Companion" to be a weekend gig, but she and the rest of the group pack a week's worth of work into a day. They gather on Friday—either in St. Paul or a visiting theater—to go over the next night's show. " … It's a great heads-up for us, gives us an idea of what to expect, the voices we need to create between Friday and Saturday," she says.
The performers do get half an hour or so before Friday's rehearsal to go over the script on their own. "So usually what we do is make quick vocal choices … based on what Garrison has written. There's not a lot of time to [re-think your choices]," Scott says. "And then sometimes [Keillor] might guide you during rehearsal and say, ' … I think [the character] might be older than that,' or my favorite, 'I think she's taller than that.' At first you want to go, 'Huh?' And then I think, 'OK, that's a good challenge. I'm gonna make her sound taller.'"
After spending time working on the voices at home, Scott and the group convene again on Saturday afternoon so things can be rewritten, modified or simply polished. It's not the last time things can change, she says, adding that sometimes the script can be rewritten backstage during the show. In times like that, having a background in improvisational theater comes in handy, even though Scott and Russell follow Keillor's script. "As far as being ready to spin on a dime, I do think that my years in improv come into play," she says. "And also all the years on the show. There are days, every once in a while, when everything's sort of happening at the last minute and you think, 'Boy, I'm glad I'm not a rookie.'"
Despite 14 years on the show, Scott considers herself to be fresh to it all, constantly learning and improving, striving for perfection, which she considers "a nice driving force." She's comfortable with the structure of the show, rarely gets nervous, but she does see how the experience has enriched her talents and skills. "I do think I've gotten better on the show, and I've certainly … added to my bag of tricks," she says. "Am I sitting back on my laurels? Not at all. I still feel like the new kid."
After Hours
Throughout the years, when the show would break from July through September for the season, Scott used to take on regional theater roles when schedules matched up. But lately, she's been busy working on projects such as joining "A Prairie Home Companion" listeners for a cruise. The six-day cruise, filled with performances, workshops and "all things PHC," took Scott to Nova Scotia last year, and will send her to Alaska this year and then Norway in 2007.
"We met some delightful people, a like-minded group of people," Scott says of the trip to Nova Scotia. "The cruise line was complaining that the late-night bar and casino action was minimal in comparison to normal cruises. MPR listeners drink a lot of wine—not a big martini crowd or chugging margaritas, how-sick-can-I-get-later crowd. There were no belly-flop contests in the pool, or 20-year-olds running around barely clad. Yeah, it wasn't that sort of crowd."
On her personal down time, Scott retreats to her yard, which spans almost an acre, and is filled with 10 mature oak trees, several silver maples, and plenty of shade plants to keep the avid gardener busy. "I can have a Monday through Thursday when I'm in the yard all day. It's a lot of work," she says.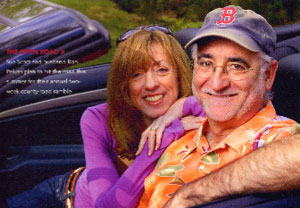 Since she travels a lot with the show, Scott says she prefers staying close to h
ome during her time off. She and Peluso are "big DVD watchers" and like to hang out by the fireplace with a glass of wine. But they've created a new summer tradition: taking the black Mitsubishi Eclipse Spider they bought a few years ago for a two-week ramble across county and farm roads.
Due South
Scott's deft humor and perceptiveness were fine-tuned growing up in Tucson, Ariz., where she remembers a creative, silly and thoughtful youth. Not your average reserved middle child, Scott excelled in theater and other performance outlets—even spending some time as a cheerleader for Cholla High School before enrolling at the University of Arizona to study theater.
"I was goofy. I was popular, but I was goofy. I was everyone's friend—the silly one," she says. "I was not the homecoming queen. However, [classmates] did nominate me to be homecoming queen just because there was this movement to say, 'Why does it have to be … the pretty girls?' And you go, 'OK, that's kind of a backhanded compliment.' But I got enough nominations to actually be on the ballot with three other girls. I said, 'Fine, I'll be the token personality.' I did not win. And I couldn't be happier."
Reality kept life's breeziness grounded. Scott's mother, Kay, suffered from severe rheumatoid arthritis from the time that Sue was born. Her younger brother, David, was born with spina bifida. Kay and David have both since passed away, but the struggles and limitations had a lasting effect on Scott, her father, Lee, and older sister Nancy. "There was a lot of focus on health needs and issues in our family," she says. "But humor was encouraged, was the saving grace, was the levity that we needed to have in times of crisis. I think that informed my humor, and it also allowed me to grow up … with a clear picture that life is not about me. And I'm grateful for that.
"My brother was my biggest and best audience," Scott continues. "And my parents—David had a very challenged life—and I know they, in hindsight, were just thrilled that we had so much humor in the home. A lot of it was about the handicaps and stuff, silly things that if people would hear us in the hallway, they'd go, 'Oh my God! What are you talking about?'
"We'd go on vacations to California and there'd be two wheelchairs in the back of the station wagon that'd be banging all the way to California. It would drive you nuts! You'd have to pull over every 10 miles and move the pillows and towels [that were padding the chairs]. And that would work for a while and then the vibrations would start again—bang, bang, bang, bang, bang! That kind of stuff. And we would giggle and laugh. Other people would be like, 'Don't make fun of the fact that you have to have two wheelchairs in the back of your car.' But that was life. I didn't know life any differently. I thought every family had people like that."
Despite geography, Scott remains very close to her father, a retired college professor, guidance counselor and Methodist minister, and her sister, who recently started her own special-ed tutoring business in Seattle.
Lakeside Living
For someone who grew up in the desert, where "you're lucky if water comes out of the faucet," Scott says that settling along Minneapolis's chain of lakes area was a no-brainer when she arrived in the Twin Cities.
She and Peluso have a strong history with the area's lakes: they were married in the Calhoun Beach Club's solarium in July 1996. Passing up an outdoor wedding, Scott says she wanted the beauty of the outdoors without stressing about the weather. With open French windows, guests enjoyed the beauty of the day—made all the more special with Lee Scott officiating the ceremony and "A Prairie Home Companion" musician Pat Donohue playing the Wedding March on guitar. "It was just magical," Sue Scott says.
After blowing past the hour and a half set aside for the interview (we've clocked 2 hours and 17 minutes), Scott is back to her old tricks, apologizing—this time for talking too much. We stand and continue talking as we head toward the door. She turns, hugs me like a good friend. "This was fun! We'll have to get together again so you can tell me all about you."
I know we'd have plenty to talk about. Because, as luck would have it, I wasn't the homecoming queen either.