2006 was filled with many unique and special Prairie Home Companion moments for both Tim and Sue.

A Prairie Home Companion traveled to Iceland in May.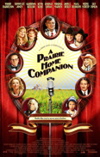 The movie (A Prairie Home Companion) opened in theatres nationwide in June.

The radio show cruised to Alaska for a week in July.

We were on the air live from Honolulu in early November.
And we said good-bye to our friend Robert Altman later that month.



It's very bittersweet to know that we were able to work with Mr. Altman on what will now be known as his last movie. We first met Bob, as he insisted we call him, several years ago when he came to see one of our shows at Town Hall in New York. The movie idea was just incubating at that point. We then saw him off and on for the next couple of years. He would come and spend show weekends with us, at home and on the road, observing rehearsals Friday night and then again on Saturday. Watching the show from back stage and getting a feel for how it all works. He was always very enthusiastic and complimentary about our work on the show and insisted that both of us be in the movie that Garrison was writing and he was directing, A Prairie Home Companion. As he said to both of us in a meeting before shooting began, "You're the actors on the radio show. You should be in this movie. Your fans will be looking for you." He was an amazing man who surrounded himself with amazingly talented people and we are both so honored to have had the opportunity to be part of his final movie. Thanks, Bob. God Bless you. We will be thinking of you and your extended family during your memorials in New York and Los Angeles.