Our 2007 A Prairie Home Companion Cruise to Norway is now history. 1300 avid Garrison Keillor fans joined the cast and crew of the show in the Holland America Line ship, MS Veendam.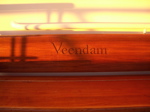 We had a wonderful time connecting with old friends from the previous two cruises, and new friends as well. We embarked from Copenhagen, Denmark and in between our scenic stops at the Fjords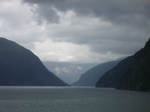 and Towns of beautiful Norway,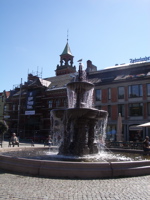 there was a constant source of entertainment on board with the Royal Academy of Radio Actors, the Guys All Star Shoe Band and lots of frequent guests of the show performing and putting on workshops at all hours in several different venues. Tim, Sue , and sound-effects Wizard Fred Newman held a couple of Actor's Workshops giving guests a chance to perform a script from "A Prairie Home Companion".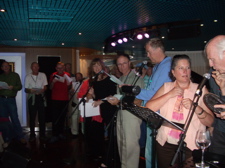 Sue and Tim performed an original play, "First Impressions: An Encounter In Three Steps".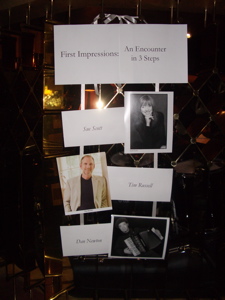 Sue came up with a wonderful outline of the story of a man addicted to voice impressions and the women who help him deal with it. Sue and Tim fleshed out the script with the help of Prairie Home Companion writer Laura Buchholz. We performed it four times in the Ocean bar with musical accompaniment by accordionist Dan Newton.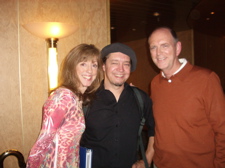 The concept of performing a theater piece in a bar or café setting came from "Thirst Theater" , which performs short original work by Twin Cities playwrights and professional actors in the midst of a bar/café. "First Impressions" was a great deal of fun for us as we were able to work in over 50 celebrity impressions plus some APHC favorites like "Barb and Jim" and Dr. Judith Flexnor.