A Prairie Home companion made its annual trip to Los Angeles for a June 6th performance at the fabulous Greek Theater in Griffith Park.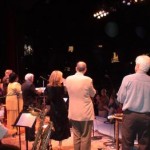 We recorded this on a Friday night for broadcast the next day. It's one of the few times Garrison will do this, out of deference to the LA audience who would bake in the sun if we did the show live at 3pm LA time.
We were pleased to work with Martin Sheen and Bonnie Raitt. Martin has been with us twice before and is a huge Garrison fan, having listened from the earliest days of the show. He took part in the "Guy Noir" and "The Lives of the Cowboys" scripts as well as a tribute to Robert F. Kennedy. Garrison also poked fun at his "struggling actor days" with a presentation of several fictitious appearances on TV and the big screen.
Bonnie Raitt has been with us once before and, in addition to her fabulous musical performance, aided by Richard Thompson, Keb Mo, and The Guys All-Star Shoe band, she showed her acting skills in the "Guy Noir" script.
The amazing Jearlyn Steele had her usual show stopping performances.
After the show the backstage crowd included Martin's family, Emilio Estevez and his significant other, Sonja, plus several more.
Vince Vaughn and Peter Billingsley showed up with Peter's 103 Great Aunt Blanche. She was lively and loved the show.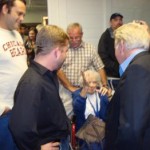 Vince and Peter came back to say hello after our Minnesota State Fair Show last September. Writer Greg Fiedler is a contributor to A Prairie Home Companion in addition to writing for "The Soup" on the "E" Network. He often appears on the live comedy segments with host Joel McCrae on "The Soup".
Thursday, June 5th, we drove to the offices of our LA agents Vox, Inc. on Wilshire Boulevard. We met with Tom Lawless, Jerome Titshaw, and Jason Merrell. Jason came to the show with a friend and enjoyed the backstage scene as well.
Tim had a call Friday night from Vox booking him for a series of spots Monday morning at LA Studios near Universal City. Turns out it was an ISDN patch with a Twin Cities Agency. Technology has made this a small world, we can do a job on a moment's notice wherever we are.
Some of the Tourist highlights for Tim and his wife Judy include the new Glendale shopping attraction, Americana at Brand, from the folks who did the popular Grove Shopping Mall near The Farmers Market. We enjoyed a great meal at the new Katsuya Restaurant at Americana.
The Griffith Park Observatory has just completed a 93 million dollar renovation and is a must see attraction. The Planetarium Show is spectacular.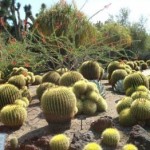 The Huntington Library and Gardens has also undergone a total renovation, 20 million dollars worth, and proved to be a lovely place to spend a beautiful Saturday afternoon. The Cactus Gardens were surreal for a couple Minnesotans.
If you go to Old Pasadena, we would recommend the Santorini Café for outdoor dining with a Mediterranean flair.
Los Angeles in early June with the Jacaranda Trees in full bloom, is a great place to be and we always look forward to our visit.