Plus My Meryl Streep Moment
My day job is Entertainment Editor for CBS owned WCCO Radio (am830) in Minneapolis, which means I see over 120 films a year and talk about them on "The Morning News With Dave Lee", every  Monday through Friday, twice an hour, from 5 to 9 am Central, you can stream us live at wccoradio.com. I review TV shows and theatrical productions, but my passion is the Cinema.
I think it's impossible to list the top 10 films when you see that many movies in any given year: so many great foreign films, so many fine documentaries, so many brilliant small independent films that people will never get a chance to see without a DVD release, but nevertheless, I've put together a top 10 list with the addition of some Honorable Mentions.
All things considered, I would have to put "Up in The Air" as the best film of the year, for timeliness; the story of an agent of downsizing, George Clooney, a road warrior, has it all, humor, great acting from Clooney, Vera Farmiga, and Anna Kendrick.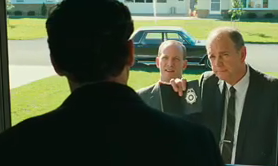 At Number 2 it's the Coen Brothers very personal remembrance of St. Louis Park's Jewish Community circa 1967, "A Serious Man". It's entertaining, darkly humorous, and provocative, in the way it will have you discussing the meaning of it all, and well acted by a brilliant cast of character actors. I say this in spite of the fact that my appearance as "Detective 1" could have sabotaged the whole project.
Number 3 on my list would be the latest from Pixar, "Up". It's a touching , entertaining film for the whole family, with an animated four minute segment at the beginning of the film that illustrates the love story between the Balloons Salesman, voiced by Ed Asner, and his life long love, that moved me more than any other movie moment this year.

Number 4 is "Precious", not the feel-good movie of the year, but a reminder of the power of the human spirit in overcoming monumental obstacles. Gaborey Sidibe is amazing as Precious, an possible Oscar winning performance from a novice actor. Monique, the comedian, is anything but comedic in her turn as Precious' disturbingly evil mother, another sure to be Oscar nominee.
Number 5 goes to a comedy, "The Hangover", a very funny "R" rated; bad things can happen in Vegas story, with brilliant timing from a talented cast including "The Office's" Ed Helms, Zach Galifianikis, and Bradley Cooper.
Number 6 is a little seen British film called "In the Loop", a brilliant script involving backroom shenanigans between the Brits and the U.S. in the run up to the Iraqi invasion. It's an acid tongued mashup of TV's "The Office" and "The West Wing".
"Star Trek", from J.J. Abrams, is my number 7 pick. It's a great "re-imagining" of the "Star Trek" franchise with a clever story line and fine special effects. It says a lot that you don't have to be a Trekkie to enjoy this one, a credit to the talented cast and director.
At number 8, "The Hurt Locker" from director Katherine Bigelow. This is perhaps the best war movie I've ever seen. Jeremy Renner is a revelation as an IED bomb detonation expert. He's fearless and unpredictable, and the combat footage is amazingly effective.
Number 9 goes to "Avatar", not because of the storyline which has been done before; a mighty power trying to eliminate an indigenous population (the Nav'i) in a quest for a rare commodity, but because of the 3-D "performance capture acting" and imaginative world that James Cameron creates. You've never seen anything like these visuals before.
My number 10 film of the year is Disney's "The Princess and the Frog", a hand drawn 3D animation, in the classic Disney style the captures the sights an sound of New Orleans and the Cajun Bayou backwaters in a funny, raucous, toe-tapping fairytale that all ages will appreciate.
Honorable mentions go to:
"Julie and Julia". Meryl Streep should get an Oscar nod for bringing Julia Child back to life. Her stunning portrayal, and touching love story with her acting partner Stanley Tucci, as Julia's husband, makes this film a delight for foodies and non-foodies alike. On a personal note, I bumped into Meryl as she was getting into her limo outside of the ABC "Good Morning America" studios. I was coming out of the Deli across from the hotel where we were stranded after the big Northeast Blizzard of '09. She had just entered the back passenger seat, so I walked up and waved at the tinted window. I could see a had waving back, she lowered the window,  having remembered, evidently, the time we spent together on the 2006 Robert Altman film, "A Prairie Home Companion". She was aware that we had just finished our New York run of Garrison Keillor's  show at The Town Hall, and I complimented her on her latest acting triumph, "It's Complicated", and her amazing turn as Julia Child in "Julie and Julia", giving the latter nod with my own impression of the late , very imitable, "French Chef", and with a buoyant laugh, shw was of to her next interview.
"This is It", the documentary of Michael Jackson's preparation for what was to be his final tour, is a thrilling reminder of what and amazing talent, personal issues aside, Jackson was. He's in charge, in command, and totally  engaged in what would have been the concert of the decade. We see, in the rehearsal footage, that as a live performer, he's was gracious, generous, and in fine form, even just days before his death.
I really enjoyed the documentary "It Might Get Loud" from Oscar winning film maker ( "An Inconvenient Truth") Davis Guggenheim. This is a story about three legendary guitarists and their love affair with the guitar. Jimmy Page from Led Zeppelin, The Edge from U2, and Jack White from The White Stripes are all featured in archival footage, and together, jamming with their beloved guitars.
"Paranormal Activity" deserves credit for moving the Horror Genre back from torture porn (the Saw franchise) to a very real fear of the unknown. The hyper-realistic home video style, with two unknown actors, gives you a visceral reaction to things that go bump in the night.
For a similar reason I think "District 9" was one of the most effective movies of the year. An unknown South African cast and great special effects give this reminder of the dangers of Segregation a power that stays with you long after leaving the theater. Hats off to first time director Neill Blomkamp.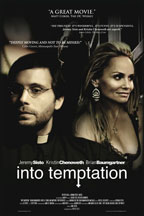 And finally, a nod to local filmmaker Patrick Coyle whose award winning "Into Temptation" did sold out Box Office business in the Twin Cities, where it was filmed last year. Great script and performances by Jeremy Sisto as a priest in crisis mode, and Kristin Chenowith as a troubled prostitute. It's well worth a look on DVD.
Thanks for tuning into "The Morning News with Dave Lee" for my entertainment reports, I look forward to your next visit in 2010.